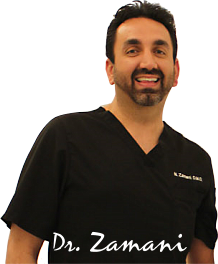 Holistic Dentistry
Mercury Free Biological Dentist
Improving Optimal Health and Wellness through Dentistry
Naturopathic and Holistic biological dentistry is the use of safe biologic restorations including using non-metal, mercury free products and integrative medicine. Dr. Zamani is a mercury free, biological dentist providing the safe removal of amalgam fillings which contain silver and mercury.  Our holistic dentistry offers natural dentistry options to remove toxic fillings in the teeth.   The first step to improving health is mercury removal from the teeth to prevent the possibility of the harmful mercury affecting the body's organs.  Dent-ALL is a 100 percent mercury free dentistry.
Environmentally Conscious
Fresh air ventilation and extensive air filtration.
Environmentally pure non-chemical sterilization method.
Lowest radiation X-rays possible.
Use of Digital X-rays which lower the radiation exposed by 90%!
Distilled water used exclusively chair-side.
High-speed hand pieces steam autoclaved before each procedure.
More biological approach to root canal therapy.
Strict protocol used during Mercury removal
Mercury free dentistry. Use of composites and porcelains to restore teeth using conservative approach to dental needs.
Rubber dam is used to isolate teeth.
Eye protection for the patient and high-speed suction used inside the mouth.
Specially-designed filtration unit near the patient's mouth to capture vapors.
Laser Caries detection system.
Enables diagnosis of dental caries before it becomes visual to the eyes, or radiographic detectable!
Laser dentistry for Periodontal /Gum therapy.
Laser gum therapy allows to more effectively remove the bacteria in and around the gum tissues, creating a healthier environment and inducing healthier gum tissues.
Oral DNA analysis, which allows to test for up to 11 different bacteria in the oral cavity. Depending on the type of amount of bacteria present a personalized bacteria reduction protocol is designed which ensure proper removal and health back in the gingival tissues.
Homeopathics for integrative treatment and support.
Relaxing spa setting atmosphere for ultimate comfort during treatment.
Including massage room, comforting war herbal neck pillows, paraffin hand treatments.
Association with the various physicians for adjunctive services.
Dental Specific protocols for nutritional support.
We offer TMJ/TMD services including neuromuscular dentistry, non-Invasive relief of headaches, migraines, neck, shoulder, jaw pain using a neuromuscular approach without the use of medication.