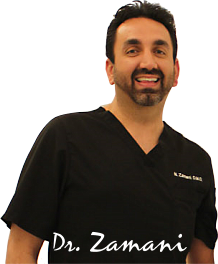 "I would like to share a bit of personal note about my experience with Orthotic and the Neuromuscular treatments with Dr. Zamani.
The first time I was 18 years old and  went to a Medical Doctor, I had pain on the Right  side of my face and he gave me muscle relaxers. I took those and it made it feel better, but I knew I was grinding my teeth. My dad had just died and I was under a lot of stress at that time, and I had a basic guard made by another dentist to protect over my teeth. I wore that all the time to protect my teeth, but still had headaches and other symptoms.
But as time went by I started having pain on my head, neck, and right shoulder. I associated the pain on my shoulders to my job and saw a massage therapist to help eliminate the pain. Even after seeing the therapist my pain would come back in just a few days on my shoulder and I would contribute this to my job.  I even started having tingliness of my right fingers. I even had consultations with other Medical Doctors to have Carpel Tunnel surgery! I even went as far as having the time set aside to have the procedure done to help eliminate my problems.
Insomnia settled in, and I was at a point where I was tired all the time because I could not get enough sleep at night. Now I was at a point where I couldn't sleep and taking 800mg of Motrin on daily basis. I would do whatever I could to help with the pain and being able to get a good nights sleep. I was tired constantly because I would wake up about five times a night. I even blamed my problems on my husband because he had sleep apnea, and I would think that was his snoring and sleep issues that kept me awake, causing these problems.
I was physically exhausted and wanted to cry all the time.
I had known about Neuromuscular treatments and therapy because I was in the dental field, but I did not know it would help me with my situation.
That's when I discussed this with  Dr Z. He started  Neuromuscular treatments with me and we did the TENS and orthotic treatments.
I had a removable Orthotic made. I started to wear the Orthotic and amazingly the first day my problems immediately started to settle!
I no longer suffer from any of the symptoms that I used to have.
I was amazed that a simple appliance took care of all my problems!
The best part about it was that I was able to sleep without any pain.
I felt refreshed that I could sleep and had much more energy. I no longer had to be dependent on Motrin everyday to get by.
Having this NM treatment done Dr Z changed my life. I have more energy, I am healthier, and more importantly I can spend more time with my family.  I am delighted with my outcome."
Thank you,
Holly R
"I want to share how much relief I have felt from headache pain and pain in my jaw and neck since receiving my orthotic. I would lay in bed at night have to tell myself to unclench my jaw before I fell asleep – like that worked. I would try everything. I would try rubbing my jaw, and was constantly moving it around to find a comfortable position; even positioning pillows around my head to try and keep my jaw in a place that wouldn't hurt. My days would began with headaches from clenching my jaw all through the night. Not to mention the damage this was causing my teeth.
Finally I found Dr. Zamani's office and he talked to me about tensing and treatment with the orthotic. I was skeptical but from the first time it was placed in my mouth, I found relief. From the many visits with his wonderful staff, they will tell you that I no longer know how to close my mouth without it!! I actually miss it when it isn't in place. I have pain free nights and mornings and the relief from the headaches is worth more than I can tell you. Thank you Dr. Z and everyone in the Gilbert clinic"!
Sincerely,
Cyndi S, CA.
"After years of having dental fears Dr. Zamani and his team made me feel so comfortable and relaxed that seeing the Dentist is no longer an emotional roller coaster for me. Thank you Dr. Zamani for helping me."
Debbie, Gilbert, CA.
"I have never had such an experience before at a Dental office. Dr. Zamani and his staff go above and beyond to make sure patients are the only priority."
Dave, Mesa, CA.
"Dr. Zamani used Invisalign teeth straightening system for me, and my teeth moved in a such a beautiful way in just a short of amount of time. I am so happy that I went to Dr. Zamani for my teeth. I look at least ten years younger with my straight teeth and get compliments all the time."
Jennifer, Gilbert, CA.
"I had porcelain veneers by Dr. Zamani to enhance my smile. I love the way the final results turned out. From the first appointment I was so impressed with Dr. Zamani and his professionalism that I knew I made the right decision to see him. His team is also very excellent and professional from taking the time out to answer my many questions and arranging financial arrangements for my treatment. I love my new smile, thank you Dr. Zamani for giving me a beautiful smile."
Michelle, Gilbert, CA.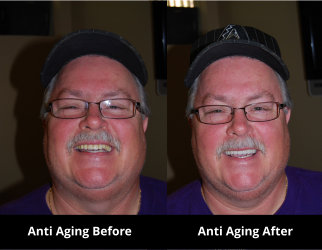 Contact us to schedule a complimentary consultation to see how Dr. Zamani can transform your smile with youth-restoring techniques that will change your life. We have two locations to serve you – Sherman Oaks and Irvine, CA.